Universal remote control KT-N898
Reference:
KT-N898
Other names: KTN898
Replacement remote controls that replace in all its functions the remote HITACHI KT-N898:
Aircoplus (42530)
19.51 € (VAT included)
Description
original remote control KT-N898 used for air conditioners RAS5142CH, RAS5142CH1, RAS40CNH2, RAS09CH1, RAS09CHZ1, RAS13CHZ1 for the brand Hitachi. This is an original remote control.
Brand
Brand:
Hitachi
This remote is used for Air Conditioners
Some of the models that use this remote are
Documents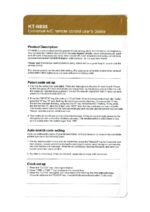 KT-N898.pdf
It uses 2 batteries of the type AAA
1.5V alcaline batteries AAA LR03, used in a great majority of remote controls.
The remote control is packaged along with batteries (if ordered) in a bubble envelope for more protection. Shipping is done quickly and safely, ensuring, as far as possible, the delivery deadline. The invoice will be sent by email.